PEST CONTROL SERVICES FOR EVERYDAY PESTS LIKE SPIDERS, COCKROACHES, ANTS, RATS and MICE.
Everyday General Pest Service - Was
$360

Now $230

Limited Time Only and Limited Areas - See Below.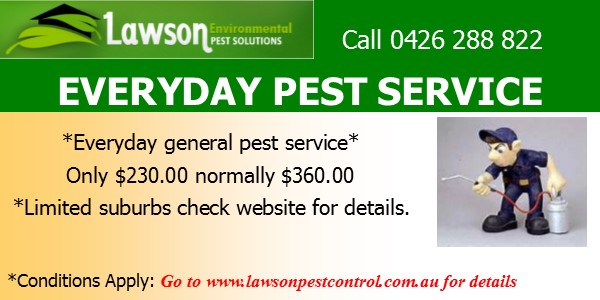 General pest service covers:
Spiders
Common Cockroaches

(excludes german cockroaches)

Black Ants
Brown Ants
Mice
Rats
Terms & Conditions
External of house, eaves, walls, around all doors and windows, down pipes including patio(s)
roof space
Paving around house, (excludes lawns, garden-beds and driveways)
Fencing
Ground floor only up to 800M2 block, larger blocks may be charges an addition fee
3 Month warranty only Applies to Spiders Common cockroaches and rodents
1 Month warranty only applies to black or brown ants
Not avaliable on weekends.
CASH PURCHASE ONLY
Must mention this special when booking
No further discounts apply.
We reserve the right to withdraw or change this offer at anytime without warning.
Only available in the follow areas
6107 Beckenham, Cannington, East Cannington, Kenwick, Queens Park, Wattle Grove, Wilson

6108 Thornlie

6109 Maddington, Orange Grove

6110 Gosnells, Huntingdale, Southern River

6111 Champion Lakes, Kelmscott, Roleystone, Camillo

6112 Armadale, Brookdale, Forrestdale, Harrisdale, Piara Waters, Mount Nasura, Mount Richon, Seville Grove

6122 Byford, Cardup, Darling Downs

6147 Langford, Lynwood, Parkwood

6148 Ferndale, Riverton, Rossmoyne, Shelley

6149 Bull Creek, Leeming

6155 Canning Vale, Willetton

6164 Atwell, Aubin Grove, Banjup, Beeliar, Hammond Park, South Lake, Success, Yangebup
NOTE: If your suburb us not listed give us a call, we can let you know if we can travel to your location within the price or for a little more.
WE OFFER UP TO 4 MONTHS WARRANTY ON A VARIETY OF GENERAL PEST TREATMENTS, WITH OUR FULLGUARANTEE THAT IF THEY COME BACK SO DO WE
We can successfully treat for: